Answers
Jan 10, 2013 - 02:35 AM
Many times I got confused about to consider many e-commerce website to searching a product and Its too difficult to differentiate among them what to consider and what to eliminate. In 2013, I think alike Google, yahoo, bing and other general Search Engine, there might be a chance to boom Shopping Search Engine as like as "Where-To_Buy.in"
Source: http://where-to-buy.in/
---

Jan 10, 2013 - 04:56 AM
Please do not go and spend money on getting people to do websites for you.
I just give you some advice about it may it will help you.
Your best investment in the process of setting up your business is to learn how to use word press yourself.
It's really helpful for you
1) you do not depend on another person to maintain the site for you.
2) you do not have to pay anyone to make changes for you when you want to change the way it looks
3) word press is widely supported and has a lot of ecommerce ready templates to use (most of the time they are free too!!)
4) it is cost effective. I never have to pay for word press stuff. The only thing I ever paid for my online business .The domain name which is actually free when I sign up with my current webhost.

Tips on learning to use word press, If you do not like to learn it online by trial and error, then go and buy something like "word press for dummies book"

Word press has a lot of plug and play plug-in which you can use to make your website e-commerce ready. (FREE!!).

You have bought the web site domain name; you just need a good web host to house your website now. A good one is lunarpages.com because they are adult friendly .Even if you do not sell adult related products it is always good to know that you have the flexibility. Now they are on the "unlimited" roll. Which means

unlimited bandwidth, unlimited disk space and unlimited add on domains. All for 4.95 per month)
at the end of all these. You will become skilled in word press (a new skill to acquire on your own) and also manage to set up your business.

I did my business this way. I started with zero word press knowledge and two months later. I am pretty good now without even have to go into coding.


---

Jan 18, 2013 - 04:52 AM
If you want to start an online business then you have to open an ecommerce website then here are five basic steps to
opening an ecommerce website
:
1. Configure your basic settings - Your platform should allow you to configure some basic settings so that you can customize your business administration. When you are opening an ecommerce website, there are a lot of small details to take care of.
2. Design your store - Designing your store is probably the first thing you thing of when you imagine opening an ecommerce website. Design is critical to your store's success because it must be user-friendly and attractive in order to win visitors over.
3. Add Products - Step 3 in opening an online store is adding products. If you have already have a list of products and detailed information from your suppliers or an existing business.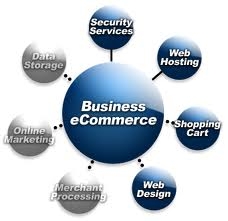 4. Configure payment settings - Assuming y ou will want to accept payment from your customers, the next phase in opening an ecommerce website is configuring payment settings.
5. Set shipping methods - The final setp to opening an ecommerce website is setting your shipping methods.
---
Sep 15, 2014 - 11:47 PM
Well you also need to advertise your business more effectly through out world wide by online. Apart from it you can also advertise your site by sms gateway system. For that you may got help from sms service provider site for example:-experttexting.com.