Answers

Feb 26, 2007 - 12:00 PM
You should be able to do it with css:



a) image.jpg is the filename of the background image.
b) no-repeat means that the images should not be tiled in either direction.
c) center should center both horizontally and vertically

Hope it works!
---

Feb 26, 2007 - 12:10 PM
Thanks a lot
---

Jan 23, 2013 - 09:12 PM
You can center your image using the html code as well as the CSS which will help you to align your image at the center of the site and also you can try out the different properties of css related to
images
such as the border,texture property and also some other properties.
---

Mar 27, 2013 - 07:56 PM
you can have a try to download Magic Camera, especially background designs are inserted, another choice is that you can also download your favourite background image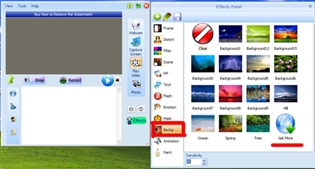 Source: http://www.shiningmorning.com/