Answers

---

Jan 28, 2013 - 08:24 AM
MakeMKV is your one-click solution to convert video that you own into free and patents-unencumbered format that can be played everywhere. MakeMKV is a format converter, otherwise called "transcoder". It converts the video clips from proprietary (and usually encrypted) disc into a set of MKV files, preserving most information but not changing it in any way. The MKV format can store multiple video/audio tracks with all meta-information and preserve chapters. There are many players that can play MKV files nearly on all platforms, and there are tools to convert MKV files to many formats, including DVD and Blu-ray discs.
Additionally MakeMKV can instantly stream decrypted video without intermediate conversion to wide range of players, so you may watch Blu-ray and DVD discs with your favorite player on your favorite OS or on your favorite device.
Reads DVD and Blu-ray discs
Reads Blu-ray discs protected with latest versions of AACS and BD+
Preserves all video and audio tracks, including HD audio
Preserves chapters information
Preserves all meta-information (track language, audio type)
Fast conversion - converts as fast as your drive can read data.
No additional software is required for conversion or decryption.
Available for Windows, Mac OS X and Linux
Functionality to open DVD discs is free and will always stay free.
All features (including Blu-ray decryption and processing) are free during BETA.
Give it a try. Download your copy now!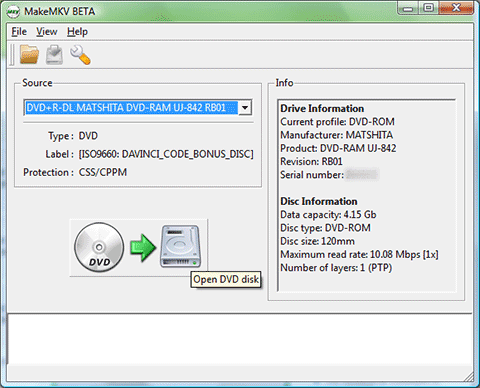 ---

Feb 25, 2013 - 12:28 AM
Since the Blu-ray is DRM protected, if you want to convert it to other formats, you will need a useful
blu ray to mkv converter
to help you.
---

Oct 12, 2013 - 02:04 AM
Make sure that your PC can run Blu ray disc, if not, you cannot do anything with it.
Make a MKV video with Blu ray disc, you may need an all-in-one Blu ray Ripper, which allows you to convert Blu ray to MKV, even HD MKV. The one Leawo Blu ray disc to MKV converter is great for most users.
Once you download and run it, you can follow the steps like these:
Step1 run the program and load Blu ray movies.
Step2 decide subtitle and audio tracks
Step3 Convert Blu-ray to MKV video

---

Dec 24, 2014 - 07:39 PM
If you convert the MKV format video into others, the definition might be lower,too.
The
Matroska Multimedia Container
is an
open standard
free
container format
, a
file format
that can hold an unlimited number of video, audio, picture, or subtitle tracks in one file.
[1]
It is intended to serve as a universal format for storing common multimedia content, like movies or TV shows. Matroska is similar in concept to other containers like
AVI
,
MP4
, or
Advanced Systems Format
(ASF), but is entirely open in specification, with implementations consisting mostly of
open source
software. Matroska file extensions are .MKV for video (with subtitles and audio), .MK3D for
stereoscopic
video, .MKA for audio-only files, and .MKS for subtitles only.


T
o protect its features of itself, you'd better find some player supported MKV. Personalized recommendation , hope it is helpful to you.
http://mac.softpedia.com/get/Video/Mac-Blu-ray-Player.shtml
---

Dec 28, 2014 - 10:39 PM
You can use MakeMKV to convert blu-ray to MKV. But the converted files will lose some quality, with unsharp videos. Why not install a blu-ray Player? VLC, Macgo, Aurora all can play deal with blu-ray files. But Mac Blu-ray player is the one works best. Remember to connect a blu-ray drive.