Answers

Nov 20, 2012 - 04:35 AM
Simply you will enhence more web traffic via seach engine by doing article submission with targeted keywords and share it in social networks and social bookmarking.
---

Nov 26, 2012 - 07:08 AM
Google has introduced a ton of changes to their ranking formula recently, most of which penalize complicated, manipulative SEO tactics. As a result, SEO has become simpler. Today the keys are:
1)Having a clean site that communicates well with Google.
2)Creating great content that naturally attracts backlinks.
The onsite SEO you could follow are
1)Update keyword research.
2)Update title tags and content.
3)Add new pages for additional keyword terms. (New blog posts in the site)
4)Run an SEO diagnostic.
5)Set up a good internal linking system. It is recommended displaying links to your top lead-generating pages in the footer of the site, using keywords in the anchor text of the links. The offsite SEO includes,
1)Removing bad backlinks as the ones coming from content farms, ad sites, and other sources with bad online reputations, .
2)Do guest posts
3)Update directory listings.
4)Update
social media marketing
profiles
This way you should be able to increase your SEO.
---

Dec 01, 2012 - 04:38 AM
Today SEO is most common job in online. SEo help us to increase site PR. But it is difficutl to do this work some times. you must learn some basic trick to post any link. I hope you can get valuable infrmation from new code logic about SEO, data entry...
Source: http://www.newcodelogic.com
---

Dec 27, 2012 - 07:20 PM
There normally are 9 ways by which i increase my site hope this may help you also
1.Add a blog
2.Add Google Analytics to each page
3.Reduce code bloat
4.Make each page unique
5.Use meta description tags
6.Remove repetitive wording from the website layout
7.Add footer links to every page
8.Create a separate web page for each keyword or keyword phrase
9.Use keyword rich title tags on each page

thanks search engine optimization firm now a days growing rapdily but you can do it yourself.
good luck!!!
---

Dec 27, 2012 - 07:25 PM
Search engine optimization(SEO) is the inevitable aspect which improves the search result of a particular website.Building an attractive Website might be an easy task,but making it search friendly is really hectic.
I was much worried on how to build a SEO Friendly website for my newly started Travel Business.I came across http://www.makeanysite.com which gave me a 100% SEO Friendly site with visually rich WordPress Themes.With makeanysite.com what you have to pay is for Unlimited Hosting only just 4$.
Source: http://www.makeanysite.com
---

Jan 03, 2013 - 06:35 AM
Here are some popular and practices for Search Engine Optimization:
Email a friend: While we sometimes miss the forest for the trees, there is no mistaking that email is a direct and therefore powerful tool.
Create YouTube Videos: This is very useful for social media optimization. YouTube gets very high rankings in search engines, making it a most effective social marketing tool.
Facebook Store: Opening a Facebook Store isn`t just social media marketing - it`s actually a social media market!
Share Like Buttons: With a click you can share your website and products with your friends and followers on social networks.
---

Feb 13, 2013 - 06:11 AM
There are several ways to increase the
SEO tools
1 Make funny post frequently
2 Post amazing looking pictures
3 Upload videos
4 ask your friends for seo tools
5 Consalt from
some legal websites. For example,
http://www.iknowseo.co.uk/
Source: SEO tools
---

Feb 15, 2013 - 01:06 AM
Websites have come a long way in a short amount of time. Once considered a mere enhancement to the marketing strategies of a corporation or small business, a company website has become vital in the success of its host — to the point where, in many cases, the visibility and quality of the website could make or break the company behind it. Acknowledging this, thousands of businesses, armed with search engine optimization tools, have engaged in a no-holds-barred battle to score a coveted spot on the first page of search engine results. But even with that level of competition, boosting your search engine optimization, or SEO, and increasing traffic to your website can be done by making it more compatible with search engines.


Read more:
Seo quote
---

Feb 22, 2013 - 01:53 AM

Top 10 Tips to improving your SEO
1. Keyword Research
2. Link Building
3. Deep Linking
4. Sitemaps
5. Relevant Content
6. Optimise Meta Tags
7. Use Alt Tags for Images
8. Social media
9. Ensure Domain Name Contains keywords
10. Use Headings.


Source: http://www.synqk.com
---

Mar 11, 2013 - 08:21 AM
Make sure you cover all basis.
You onsite SEO is key. Make sure you get this 100% correct. Look at your keyword targets and how these are integrated across your site.
In terms of link building - cover everything including
1) Directories
2 Guest Posts
3 Blog Directories
4 Outbound linking
5 Social Communities
6 PR
7 Wiki
8 edu
9 PR Submissions
10 Social Networks
11 Onsite blogs
12 Internal Linking
13 rss feeds
14 onsite news
www.Cayennred.com
---

Jul 12, 2013 - 10:28 PM
You can enhance the SEO performance by doing some small tasks like adding Blog to your site, publishing useful videos ,post funny posts and pictures frequently ,get SEO services from professionals like
TuckTail.com
. You can also employ PPC service ,it will increase traffic to your website .
---

Dec 05, 2013 - 08:56 PM
make sure you optimize your website so that it will be read and accessed by the search engine - this is called ON PAGE
SEO
. Then you can create relevant links pointing to your site to increase more traffic and online visibility.
---

Feb 25, 2014 - 03:08 AM
SEO increase by TWO ways
a) Social
Awareness
(b) Professional way
1) Incease the
Awareness about SEO benifit
2) Make site PDF and PPt
3) Infographice submission
4) video making
5 ) Unique content writting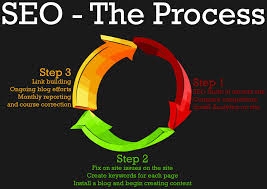 ---

Feb 02, 2015 - 09:38 PM
First, you must check your target. Who do you want to target? What are or location? For what kind of business? You should know all of these.

Good luck!
Source: http://www.yourtraffichits.com